Examples of Past GLEC Participants
| | |
| --- | --- |
| | GLEC KOREA WINNER INTERVIEW |
"Thanks to GLEC, I mainly received 2 benefits.
First of all, I'm going to the UN Headquarters Training Program as an Assistant Staff.
Second of all, I'm currently working as an intern at Hope to the Future Association."

GLEC KOREA Grand Prize Winner University Track 2019
Kang Sue Min
"I highly recommend you to believe in your potential and give it a try"

GLEC KOREA Grand Prize Winner High School Track 2016 &2019
Yoon Seo Young
| | |
| --- | --- |
| | GLEC TOP Winners' Speech Videos |
★
GLEC Korea 2019 University Winner - Speech Grand Prize
Awarded by the President of United Nations Academic Impact Korea
Sue Min Kang from Korea University
★
GLEC Korea 2019 High School Winner - Speech Grand Prize
Awarded by the Honorary President of World Federation of United Nations Associations
Sung Soo Cho from Korean Minjok Leadership Academy
★
GLEC Korea 2017 High School Winner - Speech Grand Prize
Awarded by the President of World Federation of United Nations Associations
Soo Ah Lee from Gyeonggi Girl's High School
★
GLEC Korea 2019 Junior High School Winner - Speech Grand Prize
Awarded by the Honorary President of World Federation of United Nations Associations
Bye Ri Yoon from Shindo Middle School
★
GLEC Korea 2017 Junior High School Winner - Speech Grand Prize
Awarded by the President of World Federation of United Nations Associations
Cho Eun from Shindo Middle School
★
GLEC Korea 2019 Elementary School Winner - Speech Grand Prize
Awarded by the President of United Nations Academic Impact Korea
Ji Heon Kim from Seoul Jamwon Elementary School
★
GLEC Korea 2017 Elementary School Winner - Speech Grand Prize
Awarded by the President of World Federation of United Nations Associations
Seung Pyo Shin from Seoul Cheongdam Elementary School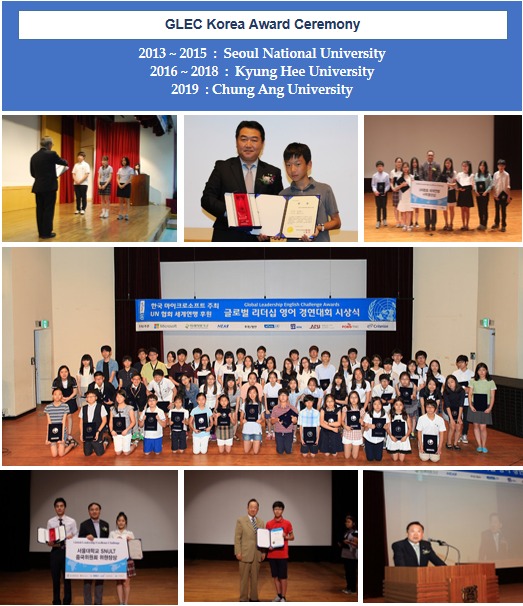 GLEC Korea 2019 TOP Winners'
Essay Samples

★
GLEC Korea 2019 High School Winner - Essay Grand Prize
Also, the Grand Prize winner from GLEC Korea 2017 - Essay
Awarded by the President of United Nations Academic Impact Korea
SeoYoung Yoon from Goyang International School
Essay Topic - SDGs Goal 16
The issue of 'Child Soldier' is a serious social problem in most of the countries in African regions where ongoing armed conflicts occur on a regular basis. Not only ground on local level support, but there have also been growing calls on an international level to heighten internal and external supports for child soldiers who have experienced civil wars, suffering from physical and mental exhaustion. Goal 16 of the UN's Sustainable Development Goals also accentuates the importance of eradicating every form of child-related abuse such as exploitation and human trafficking. In your opinion, why should we protect and promote children's rights in order to fulfill Goal 16? Furthermore, what kinds of policies should come as a priority for developing countries that lack social infrastructure, in order to protect the rights of children?
Grand Prize Winner's Essay
While it is undeniable that children must be taken care of and protected with attention, the current situations in many parts of the globe do not seem to guarantee those essential and basic rights they deserve. Numerous children are still exposed to various forms of violence, such as exploitation, abuse and human trafficking. Such violence is not only tragic for the children themselves, but also has damaging to the whole international society, in terms of peace.

In order to further the discussions on the importance of ensuring child rights to achieve SDG 16 on peace, it will be useful to first point out the definition of peace, in other words, what kinds of factors constitute peace. Galtung, a Norwegian sociologist renowned for his peace studies, has established the notion of negative and positive peace. According to his theory, what we need to pursue is the 'positive peace', whereby not only basic and external violence but also all kinds of violence, including cultural and structural, are completely eliminated. This idea implies that human rights lie at the core of achieving peace, and that not just the SDG 16 but the whole seventeen SDGs each, in its own ways, should consider human rights as critical issues. Moreover, as children are some of the most vulnerable groups within the society that are prone to violence and abuse, the emphasis should be put on their human rights above all. In addition, considering that children are potential leading members and future generation of each society, ensuring their rights and promoting their growth is essential for maintaining a sustainable and cohesive society.

There are certainly countless policies and fields necessary to promote child rights, ranging from health and housing to education. The point, however, is that we need to find out which to 'prioritize' among those approaches, since many of the developing countries are faced with the lack of financial budget, social infrastructure, and other capacities to implement all of them at the same time. And, comprehensively considering all the factors involved, 'health' should be the core of the child rights policies in developing nations.

Health can actually be regarded as a broad concept to approach, and yet focusing on health is crucial in many aspects. First of all, a large proportion of the children in developing countries are suffering from poverty, which makes it difficult for them to access basic food sources and shelters needed to sustain their life. Some of them also lack access to sanitary infrastructures and medical care, which are significant factors to achieve health. In such circumstances, providing them with basic necessities for health in an efficient way should be the priority.

In addition to the physical aspect, the mental health of children must be put into consideration in policy making. The majority of the children who has already undergone violence suffer for severe mental damage for a long time. Thus, measures to deal with such mental burdens need to be implemented. And this can be done in parallel with education. That is, schools and teachers can be the provider of lessons and mental care at the same time. Education will play a role in helping children get out of the distress of violence and move forward to actualize their potentials in their whole life. Furthermore, it must be noted that problems like child soldiers, human trafficking, and child labor exploitation are all partly correlated with economic reasons. In other words, such issues on peace and justice can be effectively resolved only after they become free from severe poverty that restrains their life. Education can again assist in coping with this problem by providing children with knowledge and skills that can be utilized in establishing their future careers.

In conclusion, human rights, especially those of child, are of paramount significance in addressing the international peace and justice. And, though a little bit vague and broad, policies focusing on the comprehensive 'health' of the children should be implemented to ensure those rights in developing countries. This includes not just physical but also mental health, which is also associated with education. Based on such approaches, child rights can be ensured and enhanced in the international society in a sustainable way, thereby making the whole world closer to achieving the true 'positive peace'.



★
GLEC Korea 2019 Junior High School Winner - Essay Grand Prize
Awarded by the President of United Nations Academic Impact Korea
JinYong Lee from Daewon International Middle School
Essay Topic - SDGs Goal 3
As an aftereffect of the 2011 humidifier disinfectant incident, people's concerns towards the safety of chemicals have intensified. After the series of controversies, the new term, 'Chemophobia (Chemophobia)' has emerged, calling for the proper regulation of chemicals in order to safeguard the environment and public health. As a response to chemical-related incidents, the U.N. stresses the importance of exercising strict control over the chemicals in order to precaution the millions of deaths that occurred from contamination of the environment. In South Korea, where there is widespread fear of chemicals, what is an effective way to manage chemicals? By acknowledging the current legal framework's shortcomings, how can we effectively supply the eco-friendly products to the wider public?
Grand Prize Winner's Essay
Today, the world is facing a monumental crisis. The increasing concerns about the safety of chemicals are now a clear, distinct problem, as surfaced by the emerging new term, 'chemiphobia'. The sheer amount of these unsafe chemicals and the vast multitude of the population using it has made this chemical crisis a lethal, potentially devastating problem that can threaten billions of people's health and welfare. Thus, there has been a rising consensus among people that governmental regulation of chemical products are necessary for the protection of public health. It is also widely agreed upon that better ways of distributing environment-friendly products to the public should be made in order to supply the population with safer chemical products. I, for one, believe that well-regulated and strict control by the government should be mandatory for these procedures to be efficiently done, and here's why.

It is not a stretch to say that many, if not most, chemical products out in the open market are, in some ways, harmful. The sequence of shocking revelations such as the 2011 humidifier crisis and the fine dust crisis raging on even today has opened the eyes of the public, enabling them to realize the potential dangers of harmful chemicals. It has been revealed that unlike previous thoughts, it isn't only the environment that is affected by harmful chemicals. As shown by the humidifier incident and in further incidents, harmful chemicals have been found in many products that are commonly used among us. The usage of these harmful chemicals by companies is usually motivated by one reason: the rise of a product's quality. Sometimes, the usage of certain chemicals can be useful to boosting a product's capability, and in a capitalist world and a competitive market, companies often opt to use these chemicals and risk the safety of the public using it.

These cruel and immoral acts from manufacturing companies have been gone undetected, or in some cases, unpunished by the government due to the leniency and corruptness of its regulatory laws. As many examples of the usage of harmful chemicals have surfaced in recent years, the underlying problem of this crisis has been correctly identified as the often useless regulation systems of our government. With the current chemical crisis being a massive problem that has contaminated the entire premise of the manufacturing world, it is essential that all manufactured products go under the strict control of a new law regarding the safety of chemical products. As it is impossible to acknowledge the exact state of the crisis and the products these chemicals are used, precautionary actions against all products must be taken. And the best and safest action would be the formation of extremely strict regulatory laws by the government regarding chemical products, and mandating that every single chemical product should go under this law. Every product should go under intensive testing and surveillance, and only ones that are qualified should be able to be sold to the public. Another important action would be making the public aware of the importance of safe chemicals and the danger of unsafe chemicals being used in everyday products. These actions would serve two purposes. Firstly, due to the strict regulation by the government, the public would only be exposed to safe products, guaranteeing public health. Secondly, it would propel a massive technological effort on the chemical front, as companies would be motivated to develop and discover new, safe chemicals that would serve their purpose, leading to a new blossoming of efficient chemicals that are also safe for our bodies.

The ongoing crisis of chemical safety is one that has continued to plague our world for quite a few years now. And the blatant truth so far is that no one is safe from these chemicals, as not a single product can be declared completely safe. In such a dire and potentially disastrous state, I am adamant that aggressive measures would be necessary to solve this problem. Increased control of product regulation by the government and public would lead to an age where all products could be trusted to be safe, and where corporations battle each other to form safer chemicals to provide the public. That way, the world can overcome this crisis, and become a better, safer place for all of us to live and coexist.
★
GLEC Korea 2019 Elementary School Winner - Essay Grand Prize
Awarded by the President of United Nations Academic Impact Korea
Dayoung Lee from Seoul Jamwon Elementary School
Essay Topic - SDGs Goal 1
As seen in the cyclone tragedy, which caused much damage to Mozambique in early this year, many environmental experts argue that the poor are vulnerable to natural disasters and climate change. Thus, the UN's Sustainable Development Goals 1 highlights the need for various efforts to be made in order to build the resilience of the poor and those in vulnerable circumstances, reducing their exposure to climate-related extreme events and other economic, social and environmental disasters. In your opinion, why are developing countries vulnerable to environmental problems and what social and personal efforts should be made to solve this problem in order to achieve Goal 1 of the Sustainable Development Goals?
Grand Prize Winner's Essay
Environmental disasters are unpredictable and can affect any place in the world. However, poor countries or impoverished places are much more likely to be damaged. Why are poorer countries vulnerable to natural disasters and problems caused by extreme climates, what can be done to achieve the goal 1 of the SDGs; no poverty?

The reason why developing countries are vulnerable to environmental problems are mainly because they have lesser facilities related to protection of people when a disaster happens and because there are much less services for care compared to developed countries. Developing countries have a smaller budget to spend for safety services and facilities, so they usually have lesser facilities or ones that are not enough to protect people in danger. People of poor countries have little or no access to services that can help them, such as healthcare, so they can be left out even if extreme climates destruct their homes. Also, the houses and buildings in poor countries happen to be weaker than the houses in rich communities. This too, affects how much the homes can stand extreme weather and environmental disasters.


As a society, people can provide care for the people in poverty and support developing countries so they can develop. When developing countries have enough budget to build houses that are able to be not affected by most weather that can protect people and develop services and facilities, it will be helpful for reducing poverty that is caused by environmental disasters or epidemic diseases. Many people in poverty, especially extreme poverty, is lacking basic necessities and needs to be protected from violence. Developed countries has to provide protection and care for people in or affected by poverty. Education is important for reducing poverty; properly educated people are more likely to get careers than those who are not, so providing education for people in poverty can lead to the development of the community, contributing to the goal of no poverty.


As individuals, people can donate money and other things required for the well-being of people in poverty and spread the word about the problem of poverty. There are a big number of charitable organizations in numerous countries, and people can always decide to support a person, a family, or a certain area via these organizations. They can also donate money for a project for the elimination of poverty. Moreover, joining in events that is dedicated to helping people in poverty and impoverished places. For example, many people participate in making hats for newborn babies in poor countries, because a large number of newborns lost their lives because they did not have anything to make them warm when they were born. The hats sent for poor communities saved hundreds of lives.

There are impoverished places all around the world, even in developed countries. These areas are vulnerable to environmental disasters and problems caused by extreme climates because there are lesser facilities and services for safety. However, if people cooperate to help those in need, as a society or as individuals, well-being of people in poverty and the goal of reducing poverty can be achieved.