Preliminary Round[Result] Thông báo kết quả thí sinh vào vòng chung kết / Announcement of Successful Applicants of Preliminary Round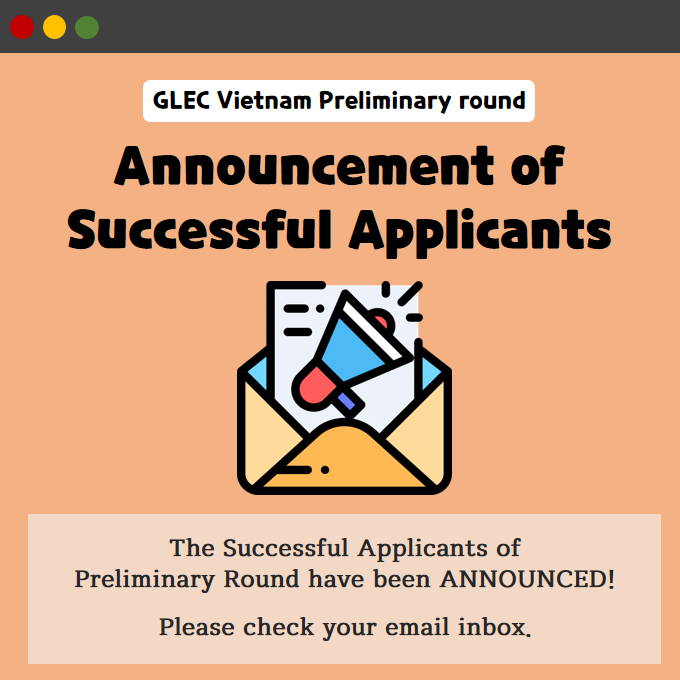 (Vietnamese follows below)
[Result] Announcement of Successful Applicants of Preliminary Round
Dear Applicants of GLEC VIET NAM 2020,
We are very delighted to inform you that the results of the preliminary round have been sent to successful applicants via email individually.
We also indicate that applicants were assessed based on both the ETS Criteria System and the UN Experts' screening standards.
For those who have not received the notification email, please contact GLEC Secretariats via email as soon as possible.
Additionally, we would like to announce that the dates of the Final Round have been postponed to April due to the outbreak of novel Coronavirus (2019-nCoV) which was originated from Wuhan, Hubei, China.

Please click here to see the full announcement.
Thank you very much.
---
[Result] Thông báo kết quả thí sinh vào vòng chung kết
Kính gửi thí sinh GLEC VIET NAM 2020,
Chúng tôi rất vui mừng thông báo cho bạn rằng kết quả của thí sinh đậu vòng loại được gửi riêng qua email.
Chúng tôi cũng đưa ra việc đánh giá các thí sinh dựa trên các tiêu chí của hệ thống ETS và các tiêu chuẩn sàng lọc của Chuyên gia Liên Hiệp Quốc.
Đối với thí sinh chưa nhận được email thông báo, vui lòng liên hệ với Ban Tổ Chức GLEC qua email càng sớm càng tốt.
Ngoài ra, chúng tôi xin thông báo rằng ngày thi của Vòng Chung kết đã bị hoãn lại đến tháng 4 do dịch bệnh của Virus Corona (2019-nCoV) có nguồn gốc từ Vũ Hán, Hồ Bắc, Trung Quốc.

Vui lòng bấm vào đây để xem thông báo đầy đủ.