Announcements Thông báo thay đổi ngày thi vòng chung kết / Postponement of Final Round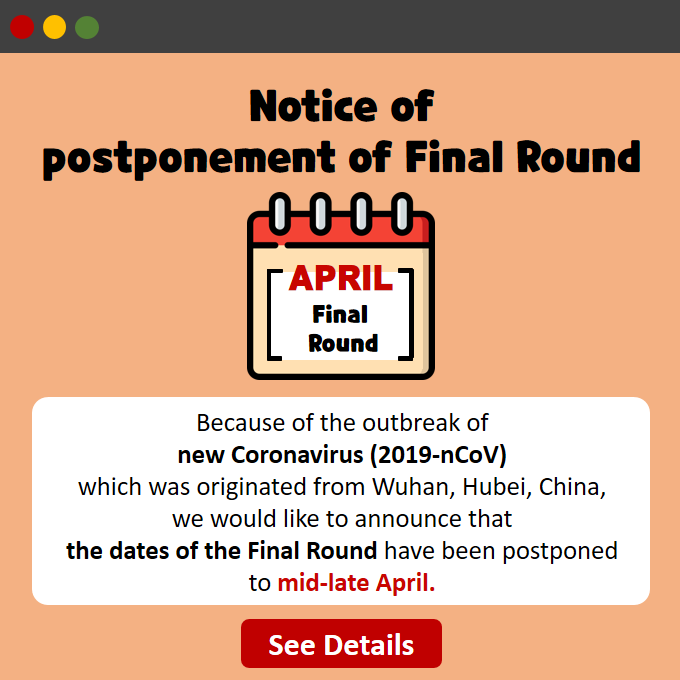 (Vietnamese Follows Below)
[Postponement of Final Round]
Congratulations on successfully passing the preliminary round of the GLEC Viet Nam 2020!
We appreciate your hard works and sincere efforts to learn more about the United Nations, and please refer to the below full announcement on the change of dates of the final round, originally scheduled from 22 Feb. to 23 Feb. 2020.
Because of the outbreak of new Coronavirus (2019-nCoV) which was originated from Wuhan, Hubei, China, we would like to announce that the dates of the Final Round have been postponed to mid-late April.
As you are all aware, considerable numbers of schools in Vietnam and neighbor countries are temporarily closing down and delaying academic calendars. Worrying severity of the unexpected circumstance and a global public health emergency announced by WHO, the GLEC Secretariats had consulted with the local schools and partners and reached a conclusion that it is inappropriate to host an international youth event that invites students from many regions amid an epidemic crisis.
The GLEC Secretariats believes this decision may be the most proper action to ensure the safety and health condition of student, parents, and staff.
The exact date of the rescheduled final round will be announced via e-mails as well as the official website and official Facebook page. Once the new final round dates are announced, we also would like to remind you that all successful applicants for the final rounds must make a payment (690.000 đồng or $30) at http://www.gleader.vn/56 by the NEW registration deadline.
Since this is unexpected circumstance, participants who cannot attend the final round in April(subject to change) will receive a 100% refund for the preliminary round participation fees.
★ ★ ★ Preliminary Round Fees Refund Request Form: https://bit.ly/2UwnnVO (click) ★ ★ ★
We appreciate your understanding for the unexpected change.
We wish all participants and parents stay safe and look forward to seeing you in April at the final round!!
---
[Thông báo thay đổi ngày thi vòng chung kết ]
Chúc mừng bạn đã vượt qua vòng loại GLEC Việt Nam 2020!

Chúng tôi chân thành cảm kích những nỗ lực và cố gắng của bạn để tìm hiểu thêm về Liên Hiệp Quốc và vui lòng tham khảo thông báo đầy đủ bên dưới về việc thay đổi ngày thi của vòng chung kết, dự kiến ban đầu từ ngày 22 tháng 2 đến 23 tháng 2 năm 2020.
Chúng tôi xin thông báo rằng ngày thi của Vòng Chung kết đã bị hoãn lại đến giữa cuối tháng 4 do dịch bệnh của Virus Corona (2019-nCoV) có nguồn gốc từ Vũ Hán, Hồ Bắc, Trung Quốc.
Như bạn đều biết, số lượng đáng kể các trường ở Việt Nam và các nước khu vực đang tạm thời đóng cửa và trì hoãn lịch học tập. Lo lắng về mức độ nghiêm trọng của tình huống bất ngờ và tình trạng khẩn cấp về sức khỏe cộng đồng toàn cầu do WHO công bố, Ban Tổ Chức GLEC đã tham khảo ý kiến của các trường học và đối tác và thống nhất ý kiến rằng việc tổ chức một sự kiện thanh thiếu niên quốc tế mà mời học sinh/sinh viên từ nhiều khu vực là không phù hợp trong tình trạng khủng hoảng.
Ban tổ chức GLEC tin rằng quyết định này có thể là hành động thích hợp nhất để đảm bảo tình trạng an toàn và sức khỏe của học sinh/sinh viên, phụ huynh và nhân viên.
Ngày thi chính xác của vòng chung kết sẽ được lên lịch và công bố qua e-mail cũng như trang web và Facebook chính thức. Sau khi ngày thi mới của vòng chung kết được công bố, chúng tôi cũng xin nhắc rằng thí sinh vào vòng chung kết phải tiến hành thanh toán (690.000 đồng hoặc 30 đô la) tại địa chỉ website http://www.gleader.vn/56 theo thời hạn đăng ký MỚI.
Vì đây là tình huống bất ngờ, thí sinh không thể tham dự vòng chung kết vào tháng 4 (có thể thay đổi) sẽ được hoàn lại 100% phí tham gia vòng loai.
★ ★ ★ Mẫu yêu cầu hoàn Phí tham gia Vòng loại: https://bit.ly/2UwnnVO (nhấp chuột) ★ ★★
Chúng tôi rất quý trọng sự thông cảm của bạn cho sự thay đổi bất ngờ này.
Chúng tôi xin chúc thí sinh và quý phụ huynh được bình an vô sự và mong được gặp bạn vào tháng 4 tại vòng chung kết !!